Seri by SPORT24 Streak predictor game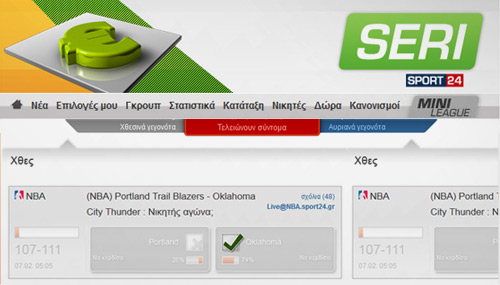 Description
There are many variations of predictor games. Now a new variety comes from the USA, the Streak Predictor. After an inquiry from a large Greek sports network it was decided to take up the idea and develop a similar game.
In a Streak Predictor game the user chooses his prediction options himself. If there are for example Bundesliga, EC Qualification, Formula 1, Golf, Tennis and Boxing at the user's disposal, he will decide himself whether only to make predictions for one sport or to get involved in several ways.
After picking a prediction opportunity, he will predict the outcome. The game has been deliberately kept simple in this respect; there are always no more than two possible options.
Example: For the Bundesliga match Bayern Munich vs. Mayence 05 there are the following options:
Bayern Munich wins
Mayence wins or the match is a draw.
After the decision this option is his active pick. A user can only have one active pick at a time. After an event (pick) has been evaluated, this user has either:
Right prediction: one point for his streak
Wrong prediction: the streak is broken and the user has to start again with a length of 0.
The user should choose his personal risk according to the length of his present streak: if he already has a streak of a certain length he should only make safe predictions; if he's at the beginning, also insecure predictions with a short deadline make sense.
Keywords: Streak predictor game, sports prediction game, Seri
Keyfacts
Category

Pick'Em

Timespan

Dec 2010

Client

24 Media

Project link