Panini Adrenalyn XL™ Russia 2013 Official trading card game of the Rossijskaja Futbolnaja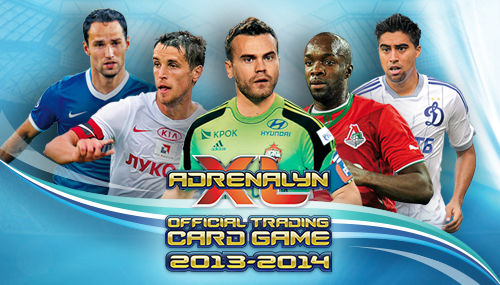 Description
In this exciting online game users compete with their collection of cards featuring football players of the Russian League Rossiyskaya Futbolnaja ​​against each other. The game concept here is similar to the style of play of Super Trumps card games.
Similar to the printed trading cards serves Panini collectors also a virtual collection and game. The user therefore has to collect double the fun his favorite football players and let them compete against other users from around the country.
At the beginning each user receives a starting collection of 14 player cards from different Russian teams. The user has the option to expand his virtual card collection by entering codes, which are located on the back of the printed player cards.
Once the user has placed his player cards in his lineup he can start the actual game. He can choose between three game modes:
Unlimited play with up to 14 cards
playing with 8 random cards
2-versus-2
In every mode the user selects one by one from one of his cards regarding the player values. The user who chooses the first card determines the basis of which values ​​the opponent must select its card. If the user chooses the attack value of his card the opponent has to select a card based on the defense value. Once each player has chosen a card the selected values ​​are compared. The user with the higher numerical value wins the round. If this results into a draw there will be a tie break by the total value of the player cards.
Throughout the game the user may share the game, their victories and unlocked player cards via Facebook and Twitter or invite their friends via e-mail.
The exciting and varied Adrenalyn game already attracted many users in the previous versions and remains one of the most popular football card games.
Keyfacts
Category

Adrenalyn XL

Timespan

Oct 2013 - Feb 2014

Client

Panini

Project link

http://rfpl.paniniadrenalyn.com/online-challenge/