Panini Stickeralbum EURO 2016 Official virtual colletion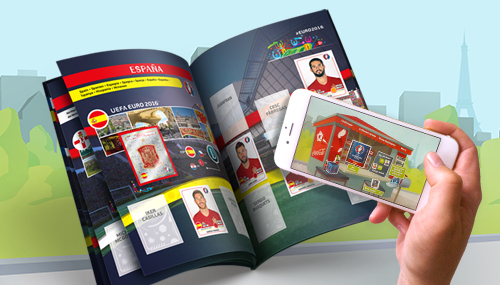 Description
The Virtual Sticker Album allows users to collect their favorite stickers online on their PC, Smartphone and Tablet. The look and feel is as close to a "real physical album" as possible: The album pages are flipped with your finger or mouse, stickers are dragged and when opening a pack you see it being ripped.
This app also features a scan-function: Scan local sponsor stickers and specific merchandise products to unlock content in the app.
Daily packs are distributet and new packs can be unlocked with codes found in the real sticker packs or promo-codes that can be distributed digitally or via scannable QR-code. A complex swap market allows users to swap globally or with their close friends.
The configuration of the album appearance is very flexible. This allows for users from different markets/countries to have different pages in the album and collect specific stickers for their market.
Swaps with users from other countries reward the player with Fan-Stickers for a specific section in the virtual album.
Keyfacts
Category

Stickeralbum

Timespan

Apr 2016 - Aug 2016

Client

Panini

Localization

16 languages

Players

1.107.040 active players

Codes

3.615.336 entered codes

Swaps

35.702.184 successful swaps

Album status

190.314 completed collections