Panini Stickeralbum Champions League 2013-2014 Mobile App Official virtual collection of the Champions League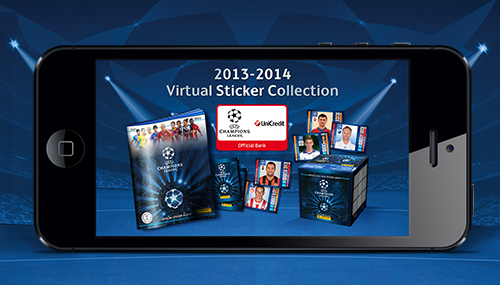 Description
In analogy to the printed version of the Panini Sticker Album, Panini also offers a virtual sticker album for the UEFA Champions League season 2013/14. Users therefore can have double fun collecting their favourite players. Apart from the mobile version we also developed a desktop version.
Like in the paper version users can open packets that include three stickers. The user can unlock the packets by entering a code that can be found in the paper versions of the packets or on several internet platforms as promo or bonus code. By inviting friends users can get additional free packets.
Via the challenge area the users get several tasks to fulfil, like "Complete team" or "Collect player XY". By fulfilling the task the user can receive further sticker packets, special stickers or video clips of their favourite teams.
Users can at any time share their received stickers and unlocked fan stickers with their friends via Facebook and Twitter and can invite friends via e-mail.
As soon as all stickers have been glued into all album pages the collecting will be awarded with a download. The user can download the virtual album as PC or Mac version.
Keyfacts
Category

Stickeralbum

Timespan

Dec 2013 - Jul 2014

Client

Panini