Panini Virtual Sticker Album Campeonato Brasileiro 2011 Official virtual collection for the Campeonato Brasileiro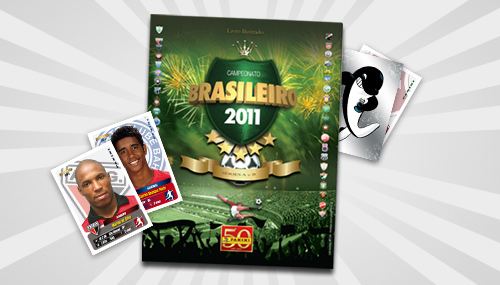 Description
Another version of Neopoly's new Virtual Sticker Album, this time for the Brazilian Campeonato 2011. Users can collect and trade virtual stickers of the CB 2011 Liga Brazil.
Each user has his/her own album and start with two packets of virtual stickers. To rip open a pack users simply click on the packet. Afterwards they can browse through the album page-by-page or directly jump into specific club pages by navigating via the small country flags. They 'glue' the stickers into your virtual album by using the mouse.
Friends can unite to form a 'Collector's Group'. Every member still collects virtual stickers for him/herself but you can trade stickers within the group and help each other. Groups can have up to 11 members.
The virtual sticker album provides a place for the users who may want to swap stickers in the case they have received duplicates. In order to exchange virtual stickers with other players they can set up trade rules between bidders and buyers.
Keyfacts
Category

Stickeralbum

Timespan

Jul 2011

Client

Panini

Project link

http://sportv.globo.com/albumdobrasileirao