Regionalmedien.at Wasserski Challenge 2012 State specific water ski competition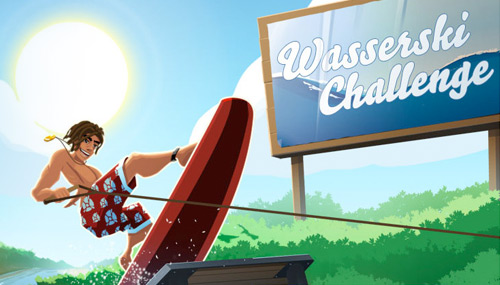 Description
For regionalmedien.at Neopoly created this racing game as a Flash app with ranking. For every Austrian state exists a separate URL users use to accept the challenge.
This game is not divided into levels of difficulty, it is an endless game with time restrictions. The user controls a water ski rider with the left- and right-key. Contacting the shore or obstacles the user loses points. The goal of the game is to collect as many tokens (logos of state specific sponsors) as possible in time. At the end the user has the possibility to post his result to a ranking and to participate in a raffle.
All illustrations and graphics were created especially for this game by the Neopoly Creativity department.
Keyfacts
Category

Arcade Games

Timespan

Aug 2012 - Sep 2012

Client

Regionalmedien.at

Project link

http://http://wasserski.neopoly.com