Yahoo! Soccer Manager Relaunch 2007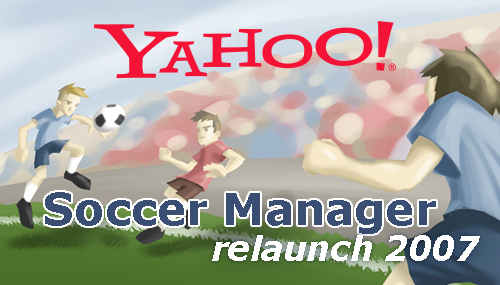 Description
The highly successful Soccer Manager has been extensively reworked for Yahoo! and was relaunched in January, 2007. The football manager platform was first developed in 2001 and has been continuously updated ever since.
In the Yahoo Soccer Manager, the user takes the role of the coach of a virtual soccer team. He makes all necessary decisions on a daily basis and lets his team do exercises, he goes to the transfer market, he determines his match strategy, decides on exchanges, determines the penalty shooter, encourages the players, visits them in the hospital or sends them to the team doctor.
Apart from an entirely new game design with all-new illustrations and new navigation, the range of features has been extended as well: * Apart from his financial situation, the team manager now can buy players from other users via the transfer market or look out for players that are available without a transfer fee * Receive new financial support by sponsors or by the sale of your self-trained young talents * Apart from victory and TV revenues, income can be generated by ticket sale as well, always depending on the size of your stadium and your "fan base" * Users can spy on their next opponent by hiring a detective; they can prevent espionage by hiring some bodyguards themselves * Users can organize themselves in a mini league; they'll have their own ranking and their own chat * Within a mini league, fan friendships can be founded; see your associated team's fans visit your own home games. Moreover, it's possible to support smaller teams; they'll profit from getting 5 per cent of the larger team's revenues.
Keyfacts
Category

Virtual Manager

Timespan

Jan 2007 - Dec 2010

Client

Yahoo!

Project link

http://de.soccermanager.yahoo.net